Porcelain Veneers in Los Angeles
Custom-made porcelain veneers in Los Angeles designed by world-renowned celebrity dentist Dr. Anthony Mobasser provides the latest in anti-aging dentistry. He combines art and science to give you a fantastic look!
Many of Dr. Mobasser's patients come from around the world and across the United States to get their veneers designed and placed by him at his Los Angeles dental office. He is known as one of the best dentists for veneers in the world. His reputation and experience have allowed him to successfully place over 10,000 porcelain veneers in Los Angeles over his 30 years of practice in cosmetic dentistry.
Before and After Porcelain Veneers in Los Angeles
Veneers are applied to a single front tooth or multiple teeth. We can also use smile line veneers which typically include ten veneers visible in your direct smile line. We can also apply full mouth veneers; the possibilities are endless and dependent upon the patient's needs.
The cost of porcelain veneers in Los Angeles varies, depends on the complexity of the case, the bite, and the original length, shape, and color. Most of the veneers Dr. Mobasser has placed have been in his patient's mouths for over 25 years and continue to look and function amazingly, according to his reviews on Google.
Porcelain veneers in Los Angeles are Dr. Mobasser's specialty and passion, especially when it comes to custom redesigning your veneers and your smile. Due to his vast knowledge and experience in designing and placing veneers, his porcelain veneers are not the cheapest.
However, as his patients can attest, the quality and level of service they receive from Dr. Mobasser are unmatched! According to WebMD, veneers can cost $1,000 to $2,000 per tooth, depending on which tooth the veneer is placed.
What are the best veneers for teeth?
Porcelain veneers are the best veneers available since they are durable, strong, resemble your natural tooth color, or give you a Hollywood white smile. Most celebrities, entertainers, stars, and Elite alike and Hollywood Celebrities, and the Elite choose Porcelain Veneers instead of other types of veneer options.
Of all the porcelain veneers available on the market today, the most aesthetic veneers by far are called Feldspathic Porcelain Veneers. These are produced by a master ceramist, followed by Emax or silicone Disilicate and Cubic Zirconia veneers. However, as far as the strength, the order is reversed. Be aware that the Feldspathic veneers are not suitable for everyone.
As an expert in the field of advanced aesthetic dentistry, Dr. Anthony Mobasser will select the best suitable esthetic material to maximize your esthetic and functional outcome.
Dr. Mobasser will carry on an in-depth study of your teeth before choosing the appropriate material for you. The key to successful veneers, per Dr. Mobasser, is to develop a complete facial treatment plan encompassing personalized smile design and select from the different mediums of ceramics.
How much do Porcelain Veneers in Los Angeles cost?
The cost of veneers varies from $2000 and up in Los Angeles and Beverly Hills area. The cost varies since each smile is unique and dependent on a variety of factors. These factors include how many teeth are involved, the patient's bite profile, and their natural teeth' original color.
Additional factors include the desired color and length of time you want your veneers to last. The most crucial factor is the knowledge and expertise of the cosmetic dentist performing your dental veneer procedure.
Veneers will give you a new lease on life, not only making you look your best but you will feel more fabulous and complete! This procedure is used for health and cosmetic reasons, to strengthen your teeth and rejuvenate your smile to a smile you've always wanted.
Dental Veneers are designed not only to match your face, your skin tone, the shape of your lips but they can also be designed to match your personality. Proper evaluation and consultation is a prerequisite.
Dr. Mobasser also can design reverse Porcelain Veneers to improve the bite or occlusion. Most reverse veneers are placed on canine teeth to improve the bite or occlusion.
In many of Dr. Mobasser's cases, due to severe grinding, clenching, and acid erosion, the back of the teeth is worn out and causes your bite to collapse further. Specially designed lingual veneers can restore and improve your worn-out teeth and make them strong to chewing forces.
Veneers can improve your smile and restore function much better than dental bonding procedures since ceramic veneers are much stronger and more durable.
Do Porcelain Veneers Ruin Your Teeth?
Veneers that have been placed aggressively or radically can irreversibly damage your teeth. Improper placement can lead to sensitivity, gum irritation, and bone degeneration. Furthermore, veneers that are not fitted right can cause irreversible damage.
Minimal tooth reduction can give you very long-lasting and predictable results. However, thin or conservatively prepared veneers by an experienced Los Angeles cosmetic dentist and crafted by a professional master ceramist can last many decades. It all depends on the expertise of your cosmetic dentist and the philosophy of tooth conservation.
The shape of your teeth can dictate if you want to have a more masculine smile for males vs. a more feminine smile for females. The veneer pictures below demonstrate how a slight change in shape can match your personality or convert previously worn out teeth to a more youthful smile:
Thin Porcelain Veneers Before and After 
Synopsis: The patient wanted to preserve all the enamel and wanted minimal shaping to get thin veneers. Minimal ultraconservative shaping was done to give the patient what was desired.
Chipped edges of the teeth were fixed, the teeth were lengthened, and more harmonious edges of the teeth were created to follow her lower lip line.
Of course, the color was brightened to natural pearly white using feldspathic porcelain, which is still the ultimate and gold standard for making porcelain veneers.
Feldspathic porcelain is indicated and performed in particular cases, depending on the patient's bite, function, and aesthetic needs.
The above natural white veneers were fabricated. Pearly white or natural white color is very different from Hollywood white which is very reflective and almost opaque white.
Dr. Mobasser instructs his master ceramist to use Emax with a cut back of feldspar porcelain that gives the patient a natural pearly white color. It also improves the shape and size of teeth to fit the patient's lip and face.
Our patient could not be happier with the results since the purpose of the thin veneers was to conserve tooth structure and enamel.
Minimal Invasive Dentistry (with minimal tooth preparation) or shaping to perfect our patients' perfect smile.
Transforming Your Smile With Porcelain Veneers in Los Angeles
"The only regret is that I should have done it sooner!" is what one patient expressed after getting porcelain veneers by Dr. Mobasser.
What Exactly Is A Veneer?
A veneer is an ultra-thin shell of porcelain that is bonded to your teeth. They enable you to change the color, shape, and alignment of your teeth. They can last for over 20 years, according to The Journal of the American Dental Association.
Top Celebrity Dentist Dr. Anthony Mobasser uses his unique skills to provide porcelain veneers in Los Angeles with a unique shape and color to match the patient's face and personality.
To achieve natural or natural white results, the veneer selected by your dentist and must not be monochromatic but poly-chromatic. Poly-chromatic means that they are not a single uniform color, nor should they be opaque.
Artistic creativity is required to form natural beauty to the tooth through the layering of colors and the preparation of your teeth for the veneer to mimic the natural tooth qualities you desire. Hence selecting the right cosmetic dentist is of vital importance.
What determines the success of Veneers?
1- Preservation of Enamel and avoiding dentin exposure (the bond to dentin is not as strong as enamel).
2- The foundation and the health of the Gums, BEFORE starting and preparing for veneers.
3- The occlusion and bite will determine if you are a candidate and which porcelain to be used?
4- The dentist's experience and knowledge, plus using the right bonding protocol, which may differ from one patient to other.[/column]
Veneers are typically bonded to your teeth and not cemented for lasting results. Veneer bonding is generally used to describe a method of adding tooth-colored resin material inside the veneers to bond the porcelain shell to your prepared teeth permanently.
Minimum preparation is recommended since the longevity of the procedure depends on how much enamel (the outer layer of your tooth structure) is preserved. Ideally, careful case planning is done before your veneer's procedure to rejuvenate your smile, personality, and life.
Porcelain veneers are recommended for various dental conditions like uneven spaces causing food impaction between your teeth. Porcelain veneers are also recommended for worn, chipped, fractured, stained or discolored, or misshapen teeth. They are more durable and practical if the preparation is in enamel and not dentin.
An additional benefit of Veneers is that they are a more conservative procedure than Dental crowns. Meaning more tooth is conserved than dental crowns since only your teeth' facial or front surface is being worked on instead of 360 degrees circumference.
Dental Veneers require an expert dentist to prepare and shape your existing teeth; the least invasive, the better the longevity of the veneer for many years. Dr. Anthony Mobasser states, "I had seen too many restorations where the dentist told the patient they had placed veneers, when in fact they were crowns or 3/4 crowns.
Unfortunately, once the tooth is over cut and shaped, there is no going back to veneers. Over preparing by a treating dentist can cause dislodging of veneers and frustration for you as the patient".
Dr. Anthony Mobasser has prepared and successfully bonded over 10,000 veneers. Some of his ceramic veneers for smile makeovers or dental reconstructions performed with his veneer technique are still functioning over 25 years and remain cosmetically pleasing.
Per Dr. Mobasser, dental veneers are very technique sensitive. With the advent of many new porcelains on the market, the dentist's diagnosis to select which type of veneers and the quality of preparation and bonding the porcelain to the tooth structure by an expert dentist is the most vital aspect lasting and pleasing results.
Is It Possible To See What The Final Results Will Look Like before The Procedure?
After taking an initial impression and final cast, Dr. Mobasser recommends a WAX UP to be done on the initial duplicate models by the master ceramist. The Doctor needs to go to the lab and shape the model as if he would shape the teeth on the initial visit.
After that, he provides it to his master ceramist for the final design. In this phase, the patient, the Doctor, and the ceramist have a collaborative discussion. This allows the patient to preview the results regarding the shape, height, width, relationship, and each tooth's angulation.
This method is better than before and after simulations because the Doctor and the ceramist now have to deal with the bite and function of the teeth in the wax-up. On our before and after simulation, the bite and function are unknown. Because of this, the picture can be deceiving since the bite and function is unknown.
There is an extra charge for this process. However, it is well worth it to allow you to get a "sneak peek" at the expected results.
Choosing Color for your Porcelain Veneers?
Dr. Mobasser believes that tooth structure is precious. The more the dentist removes, the more efficiently the restoration can fail. The expertise of the cosmetic dentist is critical for having a lasting restoration that will look great and function for a long time! If not done correctly, many failures such as de-bonding or fractures are common.
Porcelain Veneer Onlays are a procedure performed for the back (posterior) teeth. Onlays utilize veneers to be extended to the chewing surface of your teeth to close gaps and prevent food from getting caught between your teeth due to small spaces.
These gaps can be the result of shifted teeth or ill-fitting fillings. Veneer Onlays fix chipped teeth, cover discoloration to replace the traditional mercury silver fillings in your back teeth, and rejuvenate old worn-out dentistry.
Dental Veneers done by an expert cosmetic dentist are custom made to the individual's lip form, face, skin tone, and personality. Unlike dental crowns, veneers require minimal tooth surface removal from teeth. The best Dentists advocate minimal contouring of the teeth, so the preparation is not into dentin but in enamel.
Dr. Mobasser believes tooth structure is precious. The more surface is removed, the weaker your tooth will be and increases the possibility that the restoration may fail.
Porcelain Veneer Onlays
Porcelain veneers do not even need temporaries since not much tooth structure is removed from the original teeth. The ceramist (Highly trained dental lab technician ) substituted the same minimal removal to effect the change both patient and cosmetic dentist desired.
No prep veneers or Lumineers are considered a sub-category of dental veneers in which no tooth structure is removed. A thin shell of porcelain is added to the existing tooth, making the tooth appear bulky and over-contoured.
However, Lumineers can benefit from selected smile designs if the teeth are inclined "inward" and if the existing occlusion and bite allow Lumineers to be placed.
Lumineers are not indicated for teeth that are severely worn down due to grinding and clenching unless the individual will have all upper and lower teeth redone. Additionally, if there is crowding of teeth, Lumineers is not the ideal choice of treatment.
Before & After Transitional Veneers from Dr. Mobasser: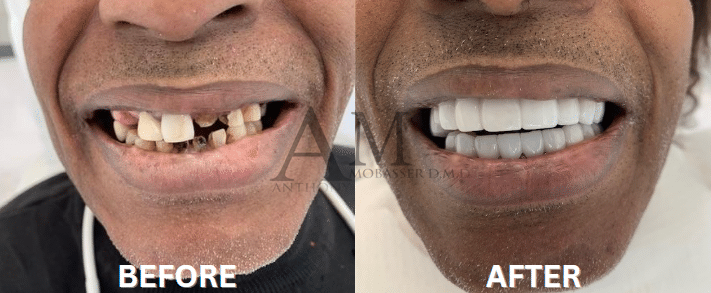 In specific situations, transitional veneers are skillfully crafted to provide patients a glimpse into the future of their smile. These remarkable tools allow one to preview how their teeth may appear with refined color adjustments, as well as an enhanced shape that adds a touch of elegance to their smile.
Unlike traditional porcelain veneers, where each veneer is a distinct piece, transitional veneers are interconnected. Though not constructed from the same materials as authentic porcelain veneers, they serve as an innovative tool to help visualize the final outcome.
One of the key features of transitional veneers is their removable nature. The patient can effortlessly place them on their teeth, examine the look, and remove them with ease. This interactive experience allows individuals to familiarize themselves with the proposed improvements, offering the opportunity to provide input and request adjustments as desired.
Though bulkier than the real porcelain veneers, transitional veneers serve as an essential stepping-stone in the smile makeover journey. They provide a sneak peek at the truer, richer color that can be achieved with the final porcelain veneers—if the patient already approves of the transitional appearance.
In essence, transitional veneers are more than just a temporary solution; they're a gateway to a world of customized dental aesthetics. They act as a prelude to the real, personalized dental veneers, ensuring satisfaction and excitement as one anticipates the transformation of their smile.
Thin Veneers
Thin Veneers, which are between a category of dental Veneers and Lumineers, are also possible for the patient, which is another category in which great success and results are possible.
However, it depends on the alignment of your existing teeth, the angulation of your teeth concurrent with your occlusion (bite). Dr. Anthony Mobasser can evaluate if you are a candidate for Thin Veneers.
Porcelain Veneers must be translucent, so when bonded onto the tooth surface, they mimic the light-handling characteristics of enamel if fabricated by a top master ceramist.
Veneers resist staining as opposed to dental bonding procedures. On the other hand, the dental bonding procedure is a quick and ideal way to correct minor flaws, cracks, or areas of discoloration. Cosmetic Dental bonding can be used to repair a chipped porcelain veneer.
If you are dissatisfied with Nature's endowment of your smile? Or is your smile posing an inhibition to your personal and career growth? Do you wish you could wave a magic wand and have a smile to transform your personality? Now you can!
If you are dissatisfied with Nature's endowment of your smile? Visit Dr. Anthony Mobasser's famous Cosmetic Dental practice in Los Angeles. He also serves Beverly Hills, Hollywood, and West Hollywood, CA. 
Dr. Anthony Mobasser's practice in Los Angeles is dedicated to people's health and cosmetic dental needs, with a team of highly talented dental specialists. He has successfully applied more than 10,000 veneers on various patients and Celebrities.
He has rejuvenated countless Smiles and has 25 years of successful follow-up on his existing patients. They have trouble-free veneers during that time. Dr. Mobasser has vast experience and expertise in Cosmetic, Aesthetic, and Full Mouth Reconstruction Dentistry.
You can transform your worn-out dentistry to a new mouth via Custom Veneers in our practice. We can customize the color, shape, and size of your teeth at our highly equipped California-based cosmetic dental practice.
We provide internal Layering porcelain techniques for veneer procedures to create polychromatic natural results, so the veneers do not look fake but pleasing to the eyes.
Dental veneers can be constructed in different quality materials, such as feldspathic porcelain, lithium disilicate (Emax), Procura, Ceramco, brux-zir, lava, or Zirconia, and many more depending on the patient bite and occlusion. That is why a bite analysis and a complete evaluation before determining which porcelain veneer best fits your mouth is of importance!
Looking to get Porcelain Veneers in Los Angeles but not sure how many Veneers you need?
Veneers are a cosmetic dentistry treatment that can augment and enhance the color, shape, and overall appearance.
How many porcelain veneers are required to accomplish the million-dollar smile depends on your lip form and how many teeth you show when you laugh out loud. In cosmetic dentistry, dentists call it the smile line or the "Esthetic Zone." At Dr. Anthony Mobasser's Los Angeles cosmetic dentistry practice, every smile is by design.
After digital photography of every angle of your smile, Dr. Mobasser will determine the number of laminate veneers required to turn an average smile into a priceless smile.
Most patients will show an average of 8 to 12 teeth on the upper and lower jaw, depending on their smile. It is very wise to match the lower veneers, precisely the number of veneers on the upper.
The reason is that porcelain is stronger than your natural tooth structure. It is best to oppose the same material for your bite to be in harmony.
Generally speaking, while showing your entire smile, you display ten upper teeth and ten lower teeth. Porcelain veneers can complement and beautify your smile. So in wanting to change the color and shape of your teeth, you will need 20 veneers to enhance your smile cosmetically!
However, if you want to make them more aligned and not change the color, you can add a minimum of four dental veneers for slightly protruded teeth. The result will be excellent.
Suppose, due to your budget and the cost of porcelain veneers, you can not afford 20 laminate veneers. In that case, the first step is to bleach your teeth, evaluate the color, do the front 4, and improve the alignment of your teeth and enhance the shape and color!
Dr. Anthony Mobasser does not recommend six veneers unless your bite and occlusion need improvement. The cosmetic dentist needs to perform a comprehensive evaluation with x-rays, bite analysis, and digital photos to provide you with a proper diagnosis and provide you with your available treatment options.
Usually, six veneers are not recommended since they will hide the back teeth after your canines, and the result is not natural. It may look good from the front view of your smile, but the moment you turn your head ( in the side view), it seems like six bright teeth are sticking out.
Finally, remember your best option for alignment and straightening your teeth is orthodontics or braces (which takes time), but it helps regarding alignment. However, orthodontics does not improve the shape or the color of your teeth. If you want to enhance the shape and color of your teeth permanently, you need laminate veneers. Veneers can also help your occlusion and bite.
In some instances, we can treat your entire mouth with veneers and overlay veneers to correct worn-out bites. It may involve veneering all 28 teeth ( usually, we do not veneer and overlay porcelain on four wisdom teeth). Remember to see an expert cosmetic dentist ascertain how many veneers are needed to turn a mediocre smile into a terrific smile.
Veneers can restore gapped teeth. All spaces can be closed. However, the cosmetic dentist must measure the distances to add the porcelain judiciously to provide a pleasing smile. Dental bonding can also help gapped teeth. However, using porcelain laminates which are much stronger and more color stable, is usually advisable for long-lasting results.
Lingual Porcelain Veneers or Reverse Veneers for the back of damaged front teeth?
Suppose you have a loss of enamel from the inside due to acid erosion or other factors causing eroded teeth, especially on the backside of front teeth. In that case, the dentist must restore the lingual (backside of front teeth) with a dental bond, possibly lingual composite veneer, or lingual porcelain veneer, or a reverse veneer.
The longevity will be questionable if all the enamel is gone, and only dentin remains due to acid erosion! The dentist relies on the dental bond to bond the lingual veneer or reverse porcelain veneer to dentin, which is not as strong as a bond when it is bonded to enamel.
Per Los Angeles cosmetic dentist Dr. Anthony Mobasser, it is well worth going with the least invasive method to restore your damaged, eroded teeth conservatively.
Assuming financing is not an issue, we would use lingual veneers or reverse veneers. Lingual veneers are the least invasive method, vs. placing a porcelain crown, which is a more aggressive approach! We must always evaluate the bite and occlusion before having reverse veneers or lingual veneers.
How long does veneers last? and How often I need to change them?
Synopsis:
The patient presented with discolored, fractured teeth. They had old dental bonding that turned brownish yellow and did not like the shape of their teeth. Furthermore, they had TMJ problems due to worn teeth.
Ultimately, they wanted full-mouth restoration and reconstruction. We restored all of their teeth and rehabilitated their bite using porcelain veneers. The patient was thrilled!
Above: Successful Veneers by Dr. Anthony Mobasser done in 1987, lasting 30 years, still functioning well, and looking great.
Above, you see two examples of veneers on upper and lower front teeth, placed in 1988 and 1989 by Dr. Anthony Mobasser. These veneers are still looking great and functioning well today, over 30 years later!
Patients are so satisfied with them that they do not want to change non of the veneers! All they do is to come for their 4 to 6-month preventative visits to protect their investments and feel good!
Are Porcelain Veneers in Los Angeles Permanent?
Above: Mouth reconstruction with Porcelain Veneers in Los Angeles by cosmetic dentist Dr. Mobasser 28 years ago. Still, look and feel good, and last a long time!
Nothing artificial is permanent. According to ADA (American Dental Association), veneers will last 5 to 10 years. Above, you can see veneers completed in 1987 by Dr. Anthony Mobasser. They still look and function great today, more than 30 years later! The conservation of tooth structure and the sensitive protocol to bond the veneers in by an expert cosmetic dentist is vital to the longevity of veneers.
Can veneers be removed easily?
Removing veneers is a time-consuming procedure. It will take much longer to remove Emax veneers, to be redone, than traditional porcelain veneer, meaning more doctors' time! The cosmetic dentist needs to know what type of porcelain was used to fabricate your veneers. If the veneers are feldspathic porcelain, removing feldspathic veneers will be easier than removing Emax veneers.
Once the veneers are removed, you will need to make another veneer! You can not remove laminate veneers and leave the tooth without another coverage since veneers involve shaping teeth before placing veneers. One must know that Veneers are irreversible techniques vs. Lumineers or no-prep veneers. No tooth shaping and preparation is needed.
How do I keep my veneers white?
Maintenance of Veneers is best done by treatment from a cosmetic dentist. The use of specific polishing pastes and powders and the techniques used to maintain the luster and shine of the veneers for many years to come are directly dependent on treating dentists and the preventative visits recommended by the cosmetic dentist.
Coarse or abrasive pastes can remove the shine, scaling, or use of Cavitron (ultrasonic machine) directly on the porcelain can scratch the porcelain. Ask Dr. Mobasser for the necessary preventative care needed, which can vary from patient to patient.
Instant Orthodontics with Porcelain veneers in Los Angeles
If you have crooked teeth and do not want to have braces or Invisalign, ask Dr. Mobasser for the possibility of aligning your teeth.
Do you have crooked teeth and want to avoid braces or Invisalign? Ask Dr. Mobasser how porcelain veneers can align your teeth, change the shape, and give it a lift rather than crowning all your teeth. Our experienced cosmetic dentist can provide you Instant Orthodontics within seven days vs. 4 to 5 years when the teeth are in and out! Instant Orthodontics is priceless.
To restore one front tooth veneer is the most challenging job for any expert cosmetic dentist. It requires meticulous preparation of the tooth involved, a specialist master ceramist, and hours of custom work. Dr. Anthony Mobasser specializes in Cosmetic dentistry and porcelain veneers in Los Angeles since 1980. Thanks to his master ceramist Vincent, who also practices in Beverly Hills, CA. 
Before and After
To view our full before and after gallery with examples of our porcelain veneer work over the years, click here.
Schedule A Free Consultation Today!
If you or someone you love is interested in Porcelain Veneers in Los Angeles, schedule a free consultation with Dr. Anthony Mobasser. He is known as one of the top cosmetic dentists for dental porcelain veneers and Lumineers. 
He proudly serves patients in Los Angeles, Beverly Hills, Century City, Holmby Hills, Bel Air, West Hollywood, Malibu, Santa Monica, Calabasas, Westlake, Palm Springs, Westwood, Brentwood, throughout California, U.S, and the world.