Full Mouth Reconstruction in Los Angeles
Full mouth reconstruction is Dr. Mobasser expertise and passion, he loves to perform dental reconstruction for his Los Angeles, Beverly Hills, and people flying in from other parts of the US or around the world.
Full mouth reconstruction or "Rehabilitation", or Dental reconstruction is using different modalities in the field of dentistry to achieve the following: to create a balanced and comfortable relationship between your jaws, chewing muscles, gums, bones and teeth, and restore the cosmetic teeth form (the aesthetic look) and function of the oral cavity (your mouth).
The mouth is a complex structure; without proper design and corrected balanced bite, many conditions may develop, such as:
chewing ability will be impaired, plus sensitivity
teeth become cracked, uneven and worn-out;
spaces between teeth can develop causing food accumulation between teeth;
or teeth begin to shift, most often forward and flared out (protruded out);
the jaw and neck can become sore and affect your joints (TMJ) and cause migraine headaches.
Before and After Full Mouth Reconstruction with Veneers and Crowns
What is full mouth Rehabilitation?
It is basically a term used to reconstruct the form and function of your teeth to its potential level. The goal of full mouth rehabilitation is to provide health mouth and red carpet ready smile that functions well, free of any disease, and basically restore the worn teeth and bite of the individual. Full mouth Rehabilitation is the same as full mouth dental reconstruction.
How much does a full mouth reconstruction cost?
A full mouth Reconstruction depending on what procedures is needed, necessary, and wanted by the individual can cost anywhere from $45000 to $175,000 and possibly more.
The cost of Reconstructive or smile makeover dentistry depends on severity of the case to be reconstructed, function, and Aesthetic needs of the individual, and of course on the reputation and knowledge of the reconstructive dentist and his track record.
How long does full mouth reconstruction take?
Full mouth Reconstruction can take 2 to 4 weeks weeks to complete , however depending on the condition of the bone, missing teeth requiring dental implant or surgical intervention and healing due to surgery, it might take months to complete.
It is best to find an expert full mouth reconstruction dentist that knows occlusion, bite and dental Aesthetics to complete your full mouth reconstruction and rehabilitation treatment correctly, efficiently, and to the best way possible so the results last a long time.
What Dental treatments can be part of Dental Reconstruction?
Teeth reconstruction procedures such as Dental Bonding, Porcelain Veneers, and Dental Crowns, Dental Implants, and Veneer Onlays and overlays are all partial procedures used in a Full Mouth Restoration and Reconstruction.
The result is a perfect mouth and smile, well-balanced, healthy and pain free, with properly functioning teeth and masticatory muscles.
In Dr. Anthony Mobasser opinion, the more conservative the reconstruction dentist designs the necessary procedures, the bite and function the longer the dentistry will last the patient.
The reconstructive dentist will design and engineer the width and height of teeth so the new porcelain restoration does not overload the supporting roots, and the length and width proportions are pleasing to the face, the lip, the color of the eyes and skin.
The patient bite and occlusion will be adjusted and designed so there will be no separation and space, gaps between teeth happening, after treatment is completed.
Most full mouth reconstruction procedures, if not all, involves raising the bite to the original position, prior to worn out short teeth patients complaining about, in which due to wear or shifted teeth cause interference in natural bite, which eventually can cause discomfort in temporomandibular joints (TMD).
The cause of short teeth upon smiling is usually due to worn out back teeth, which puts additional pressure of the bite on front teeth. Ideally, the front teeth should not contact hard upon biting.
The front teeth are used for tearing food and the back teeth are for chewing, and not reverse. Dental cosmetic rehabilitation, dietary habits ( such as acidic foods), trauma, genes among many other factors may require the patient to want to have full mouth reconstruction and rehabilitation.
What is the process of full mouth implants?
It all depends on the bone structure, the quality and availability of the bony structure and establishing dental Aesthetics and function, so the individual is self confident as far as cosmetics, chewing, phonetics and optimum health of oral cavity.
First dental implants which represent as the root of teeth is placed in jaw bone, so it anchors to the bone structure. That may take 2 to 5 months, meanwhile patient does have temporary teeth to be able to function.
After healing of the dental implants and evaluation of each tooth implant, a fixed or removable permanent teeth will be fabricated, depending on the patients bite and cosmetic needs.
Male Pre- and Post-Treatment
The process can take as little as 3 or 4 visits, after the comprehensive evaluation and diagnosis, and in some instances can be achieved in one month's time.
Crowded teeth, poor dental care, severe acidity in the mouth, stress, trauma, old worn-out dentistry, medical history and the age of your teeth – all can contribute to the need of seeking full mouth reconstruction. When your teeth are out of ideal alignment, enormously destructive occlusal or bite forces can traumatize teeth. The term for this is "occlusal trauma", and it often coincides with bone loss or periodontal disease aka "Periodontitis.
Every time you chew the damage continues: teeth shift and hit one another in a traumatic manner, worn-short teeth can occur due to loss of enamel and exposure of dentin (which wears down much faster than enamel) and pain of the jaw (TMJ), neck and head progresses.
Full Mouth Reconstruction corrects these problems by correcting the bite. Not only does the patient feel relief from improved chewing function and better oral health, but they also are delighted to achieve a knock-out smile and more youthful appearance as a result.
How many teeth are involved when doing full mouth reconstruction?
With Full Mouth Reconstruction, all your teeth and the entire mouth is beautified with a more comfortable, ideal bite and less tension on the teeth, surrounding gums, bone structure, and the jaw, neck and shoulders.
If you have worn, broken, decayed or missing teeth, old dentistry, or if you suffer from a bad bite… or if the appearance of your smile is keeping you down, then it's time to see Expert Full Mouth Dentist Dr. Anthony Mobasser.
With his continuing education and advanced studies, with his over 26 years full mouth dentistry experience and expert training in full-mouth reconstruction dentistry, he has become an internationally renowned specialist.
In Dr. Mobasser's reconstructive and cosmetic dental practice, we take utmost care to add comfort in the procedure by using a caring, human touch, and by using the latest techniques. The patient can take a look at full mouth reconstruction before and after photos to see what is possible.
What is the first step to get Dental Reconstruction? 
First you must have a consult and a complete full mouth evaluation. After a comprehensive evaluation, the etiologic factors are determined and the condition is diagnosed.
In his diagnosis, Dr. Mobasser first determines if your teeth, gums, bone, and bite are contributing significantly to your symptoms. Next, he discusses what you want to accomplish cosmetically.
After reviewing the ideal treatment, Dr. Mobasser will provide alternate choices if any, and discuss the pros and cons, risks and benefits of each procedure so that the patient can make an informed decision.
How Many visits for Full mouth reconstruction and the cost?
The timeline and number of visits will be discussed in detail, and of course, full mouth reconstruction cost will be estimated based on the existing conditions of your mouth. Full Mouth Restoration is not cheap and is considered an elective procedure. This means that for insurance purposes, it most likely will not be covered.
Dr. Mobasser can create a provisional new bite along with Aesthetic Dentistry results that will alleviate your symptoms and make you feel comfortable and more beautiful. He believes it is important for you to be comfortable with the new interim bite before receiving the final phase of Full-Mouth Reconstruction.
If Dr. Mobasser's assessment indicates that your symptoms of jaw pain, neck pain and/or headaches can be improved with corrective bite (occlusal) treatment, it is at this stage that he will decide if the intervention of an orthodontist or periodontist is necessary.
In some cases, the intervention of an Endodontist is necessary to have complete nerve analysis prior to starting.
Before Short teeth with gaps before dental reconstruction After with dental reconstruction with emax porcelain
Endodontic therapy might be necessary when the patient undergoes full mouth reconstruction. There could be dead nerves or infected nerves in the mouth in which the patient is not aware of due the current bite of the patient. It is also the patient's option to undergo IV sedation or sleep dentistry during reconstructive dental treatment.
Once significant relief from symptoms and other desired results in the interim treatment are achieved, Dr. Mobasser recommends to complete the final restoration steps which will sustain the optimal form and function permanently. Dr. Mobasser will then ensure the longevity of the million dollar smile achieved through his full mouth dentistry via education and preventative dental care methods, all under his supervision.
Does Insurance companies pay for Full Mouth Reconstruction?
Full mouth reconstruction is an elective procedure, and most Insurance companies do not pay for reconstructive services, however some services can be billed to your insurance so they pay according to their contract with the insured. Most probably your insurance will be maxed out and the patient receives the maximum amount if they go through reconstructive dentistry. Most expert reconstructive dentist collect the cost directly from the patient, and then bill the patients insurance, so the patient get reimbursed by their insurance.
Does the full mouth reconstruction last a long time?
Full mouth reconstruction cases can last over 30 years or more as documented in Dr Anthony Mobasser office, if patient follows Dr Mobasser supervision and follow-ups recommended by him.
It all depends on patient oral hygiene, keeping the preventative visits, and hopefully the patient did not get involved in a traumatic accident.
Before Full Mouth Reconstruction
After Full Mouth Reconstruction
Before and after pictures shown above that overbite was corrected. All health issues was taken care of first prior to starting the reconstruction procedure! Look at the lower root decays and sensitivity, was all treated with porcelain restorations.
Prior to fabrication of porcelain teeth, an orthotic appliance was worn. Patient wanted natural white teeth, all done with porcelain veneers and crowns. The bite was reconstructed by raising the bite to the most comfortable position.
The desired color of teeth and the smile design was done in our Beverly Hills, office with master ceramist Vincent, and custom work all completed within 2 weeks. Patient was extremely happy and joyous!
Full mouth reconstruction, Deep Overbite Correction in Los Angeles
Full mouth reconstruction procedure shown above a combination procedures, such as Porcelain veneers, Dental Implants and porcelain Emax crowns. The more different restorations required to construct the smile, the harder it is for the reconstructive dentist and master ceramist to produce the same color throughout. Patient was so happy to get the smile desired. The feeling was priceless.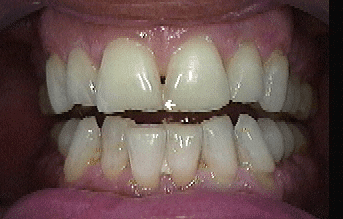 Synopsis for Four Above: Patient wanted cosmetic dentistry and had acid Erosion which caused enamel wear, dentin exposure with sensitive teeth, traumatic bite, and loss of function, causing chips and fractures on natural teeth.
Dr Anthony Mobasser, the Los Angeles cosmetic dentist, reconstructed the teeth and bite conservatively, and raised his bite to the original heights before wearing down the teeth.
All the full mouth reconstruction was accomplished using Feldspathic porcelain and emax veneers, the veneer overlays was placed for back teeth to add height to the worn out teeth, patient could not be happier!