Would you like to feel better about yourself and improve the appearance of your teeth and smile? Dental veneers are often used to improve the appearance of front teeth and are a much more conservative and better option than a full dental crown. Dental Veneers can improve the appearance of gaps, stains, chipped teeth, and large fillings. Dental Veneers can even be used to improve the shape of your teeth! Dental Veneers are a thin covering, or shell, customized to a specific color, chosen by your dentist and you, that is placed over the front of the tooth and is used to restore the beauty of your smile. Over the years, Dr. Anthony Mobasser has become the best veneer dentist in Los Angeles and has helped numerous patients improve their smiles!
Dental veneers are made in a lab from porcelain materials which are extremely strong and durable. Dr. Mobasser can match the shade of the veneer to the shade of your teeth or completely rejuvenate your smile by introducing brighter natural color of teeth for your smile line. Alternatively, you can select a lighter and brighter shade to whiten your smile's appearance permanently. Dental veneers are usually placed on the front teeth, where the chewing forces are not as hard as on the back teeth. Dental Veneers are best suited for these front teeth. Dr. Anthony Mobasser, an expert veneer dentist in Los Angeles, makes placing veneers relatively easy for patients requiring only two dental appointments. Still, for some patients, only one appointment will be needed!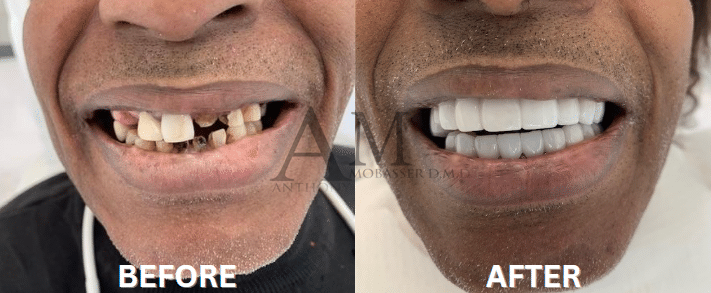 On your first appointment with our Veneer Dentist in Los Angeles, Dr. Anthony Mobasser will prepare the teeth and take an impression. He will send this impression to the lab and communicate your goals with the lab master ceramist, so the dental veneers can be fabricated to enhance the beauty of your smile. You may leave the first visit with temporary veneers if need be. On the second appointment, Dr. Mobasser will place the customized veneers and make minor adjustments if needed.
Dental Veneers can transform your life and your smile. If you are interested in learning more, call (310) 550-0383 or request an appointment.
Are you looking for a cosmetic dentist in Los Angeles? If you want to improve your smile and feel more confident, look no further than Dr. Anthony Mobasser, the best veneer dentist in Los Angeles.
With over 30 years of experience, Dr. Mobasser uses advanced techniques and top-tier technologies to correct imperfections in your teeth, giving you a perfect smile. Call today to book your no-obligation consultation and let his experience work for you!
Follow us on Facebook for daily updates and oral health tips!